Moderators: karadekoolaid, THE MOD TEAM, Stokey Sue, Gillthepainter
Posts: 788
Joined: Wed Apr 25, 2012 9:49 pm
Location: USA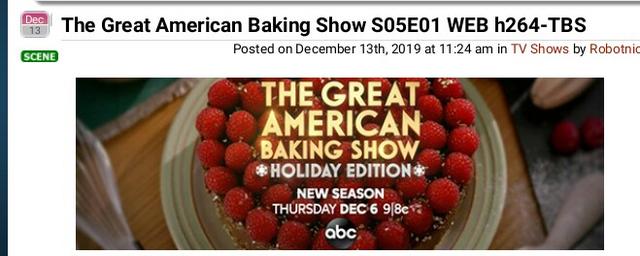 The most festive and friendliest competition on television returns with new host, Emma Bunton (Spice Girls), Anthony "Spice" Adams, veteran judge Paul Hollywood ("The Great British Bake Off") and new judge, three-time James Beard Award-winning pastry chef Sherry Yard.
How the hell this made it to five series is beyond me.I don't see anything new from Paul. Will Emma's cuteness help?? Time will tell.
As I have mentioned elsewhere, the name hits me as a scammy rip off of the original. Tho this will help explain why....
http://www.pbs.org/publiceditor/blogs/p ... in-a-name/
This airs Thurs nights on the ABC network here in the States. 900pm east coast USA time and is starting to be available on the download circuit.
---
Return to Food Chat & Chatterbox
Who is online
Users browsing this forum: No registered users and 7 guests