Moderators: karadekoolaid, THE MOD TEAM, Stokey Sue, Gillthepainter
Posts: 602
Joined: Wed Apr 25, 2012 9:49 pm
Location: USA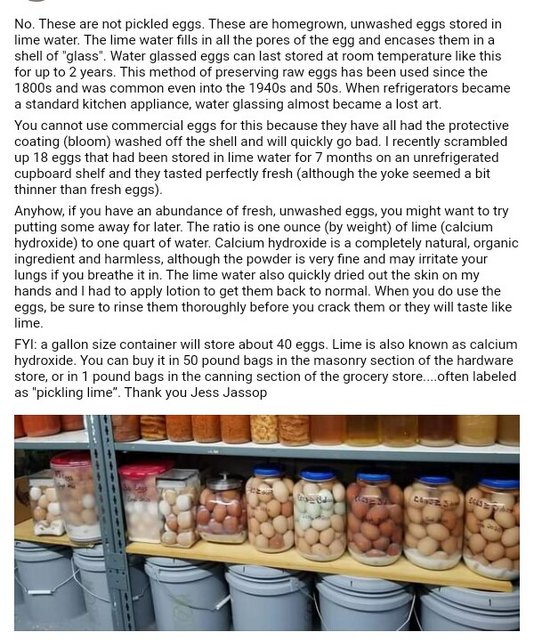 This popped up on face book and I thought it was interesting. Enjoy
---
My grandparents had deliveries of eggs from the family farm in North Devon to their home in Plymouth. Once they arrived they were coated in isinglass to preserve them. They did this because the deliveries were sporadic, every four weeks or so, and around six dozen eggs at a time. I think that was three of the big egg trays. Eggs were available in the shops, but the farm eggs were free from the family. They would get fish from the fish quay in return. It was all delivered on the local bus that ran the 70 miles between Plymouth and Barnstaple, via Tavistock, Okehampton, Hatherleigh and Bideford. When anything was sent, a telegram was sent at the same time and the bus was met at the Plymouth terminus or in Hatherleigh.

It wasn't just eggs that were sent, various bits of game arrived as well...
Last edited by
aero280
on Sat Jan 02, 2021 11:34 am, edited 1 time in total.
---
Posts: 5095
Joined: Fri Apr 27, 2012 2:02 pm
Location: Stoke Newington, London
My auntie had a small holding and used to keep eggs by storing them in jars like that but the solution she used was water glass, sodium silicate, rather than lime

As you say, anything that stops air creeping in through the pores of the shell will do the job, the navy used to grease eggs to keep them on long voyages, presumably great vats of lime water wouldn't be too handy on a ship
---
Fascinating. At my end of the townie spectrum, eggs have always come from shops, more particularly The Egg Shop which sold only eggs. However, as a kid, my mum would let me go buy just one egg from the corner shop for my tea. It was put in a cornet-shaped paper bag that I had to carry home carefully cupped in my hands and with the utmost concentration on this precious thing.
---
---
Posts: 2374
Joined: Fri Mar 27, 2020 11:58 am
Location: Wiltshire
Fascinating. I have, in the back of my mind, heard of both the OP's method and aero's isinglass. I suppose it meant that eggs were available when hens weren't laying as well as a way of storing a glut. It's the sort of thing we really should be teaching our children rather than panicking when the Tesco supply chain fails.
---
It's still possible to come across stoneware crocks in rural auctions ...(the sort where you can find old garden tools etc) that still have a residue of lime coating the inside from its use as an egg crock.
I have one.
---
Yes, that's what I thought. Advice not to wash eggs until they are to be used is because, as well as the health/contamination implications, they can absorb flavours from the fridge (if that's where you keep them). I think the important thing with storing eggs is that 1) they are kept below 20°C and 2) the temperature doesn't fluctuate too much. If you can't satisfy these criteria, the it's safer to keep them in the fridge in the cardboard box, rather than in an egg rack.
---
Posts: 5095
Joined: Fri Apr 27, 2012 2:02 pm
Location: Stoke Newington, London
Both the UK and the USA Food Standards agencies recommend storing eggs in the fridge at home, in the box

As we are all painfully aware that bacteria such as salmonella can colonise their inside of eggs it makes sense to me to store eggs below the growth temperature of bacteria

In the UK it is recommended not to refrigerate eggs before they get into the home as the condensation that might happen if the temperature fluctuated would be a problem
---
Very interesting, I'd heard the term, but never understood what it was all about.

I've always kept eggs in the box in the fridge, in spite of friends & relatives saying I don't need to or even shouldn't. Has always seemed sensible to me.

I also love the dropping into a jug of water test to see if they're okay. I do this with all but the freshest of eggs. I'd never seen one float. However over Xmas with Mr L off, he was helping me make something & he put the eggs into a jug of water & lo & behold one floated! It was well in date too, so I'm glad we bothered testing it.
---
Return to Food Chat & Chatterbox
Who is online
Users browsing this forum: Bing [Bot], Gruney2 and 9 guests