Moderators: karadekoolaid, THE MOD TEAM, Stokey Sue, Gillthepainter
Posts: 6273
Joined: Fri Apr 27, 2012 2:02 pm
Location: Stoke Newington, London
That was why I was surprised I'd forgotten it PP! We used to hum that in Lebanon and Syria
---
Posts: 3265
Joined: Fri Mar 27, 2020 11:58 am
Location: Wiltshire
I haven't had that before. It looks lovely. I hadn't realised that the leaves from runner beans were edible. I'm very surprised and rather glad that my mother didn't realise this. We used to eat beans from the garden all summer long until we were heartily sick of them, she'd have loved to have utilised the leaves until we were sick of them as well
.
---
Posts: 2915
Joined: Thu Feb 21, 2013 5:52 pm
Location: North West London
---
Pepper Pig wrote:"Here we go Looby Loo, Here we go Loobiyeh".

I'll get me coat . . . .
All on a Saturday night!!
(and I was going to post a link to that recipe too. It looks lovely doesn't it? I have loads of runner beans coming to fruition in the garden and will be making that as well as picallili).
Food, felines and fells (in no particular order)
---
.
As an omnivore and fan of nose-to-tail and complete-plant eating it's good to know the leaves and flowers and all are good to eat. Same applies to squash/pumpkins/courgettes
I made Ottolenghi's bean dish last night - it was ok but tbh was like a proto Indian dish but without enough spices or a middle eastern dish with too many and not enough sourness - if I made it again I'd leave out the chili flakes and cumin or use whole cumin and add tamarind or lemon or sumac or just ditch it and go for full South Asian. The coriander was a flavour mistake as well omo. I'm thinking beans and tomatoes are prob not such a great combo for my tastes. Beans no tomatoes next time. T&T'd tho.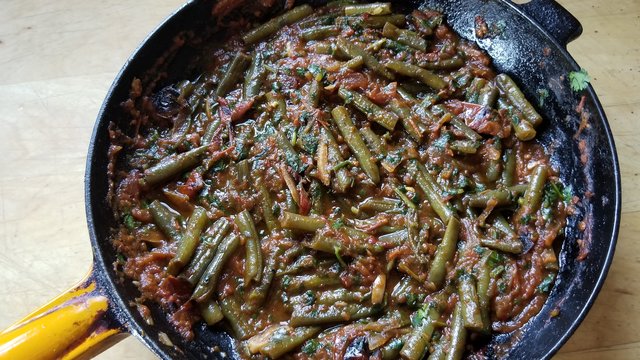 .
.
---
Return to Food Chat & Chatterbox
Who is online
Users browsing this forum: Bing [Bot], karadekoolaid and 4 guests