Moderators: Joanbunting, karadekoolaid, THE MOD TEAM, Stokey Sue, Gillthepainter
Posts: 449
Joined: Wed Apr 25, 2012 9:49 pm
Location: USA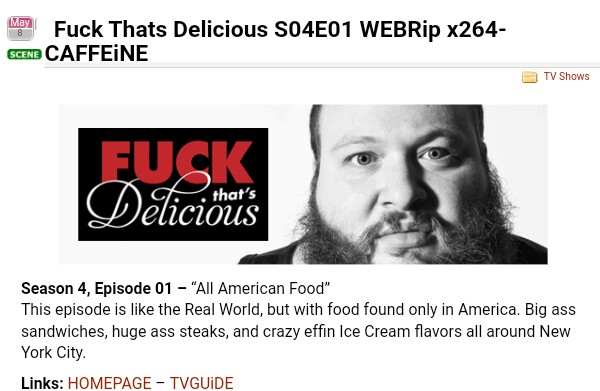 Homepage.
https://www.vice.com/en_us/topic/fuck-thats-delicious
Also available thru the download circuit
Check local listings for times in your location
---
Posts: 341
Joined: Thu Apr 26, 2012 3:48 pm
I must admit it looks grim.
---
Posts: 1125
Joined: Thu May 03, 2012 10:35 am
You being naughty Markie...…………..?
---
Some of the recipe/videos on the website look normal for American sandwiches I've seen on TV that basically have a lot of all sorts in them. Nothing wrong with that or them, although I couldn't cope with all the cheese in some.
---
Posts: 449
Joined: Wed Apr 25, 2012 9:49 pm
Location: USA
Lushie

Can't take credit for this one. Vice beat me to it

Heeheehee
---
-
Oooh some really seriously good looking big dude snax, there Mark. Have you made any?
Love sofrito - recipe looks good - I'd add a few tomatillos into the mix
and the Pollo Guisado Quesadilla looks good too (but with less chipotle). Ditto Chimi Quesadillas which looks great.
Might have to make some of these as I know Mr Zero will lurve <3
---
Posts: 524
Joined: Fri Mar 27, 2020 11:58 am
Location: Wiltshire
Some quite good recipes there though much of it not a personal favourite style of cuisine. I'll pass on watching people stuff their faces though
.
---
Return to Food Chat & Chatterbox
Who is online
Users browsing this forum: Bing [Bot], capricornbcaroline, dennispc, Linnet and 15 guests