Moderators: Joanbunting, karadekoolaid, THE MOD TEAM, Stokey Sue, Gillthepainter
spangle wrote:Talking of salt, I've found an unlikely source of speciality salt at reasonable prices - TK Maxx.

Don't think they're open at the moment, but the branches I've been in have a small and strange but interesting food section tucked away somewhere. Usually several shelves of different brands of Himalayan pink salt and a few other types, plus tea, coffee, jars of pesto, speciality crisps/snacks and other gift/weird things. I like having a browse in there.
I agree I love a bit of TK Maxx for clothes and beauty stuff too . They do sell some really interesting foodie bits and I've bought some very decent cookware from there before . One of those shops where even though I end up with fabulous bargains , I end up normally spending at least double what I was planning too
---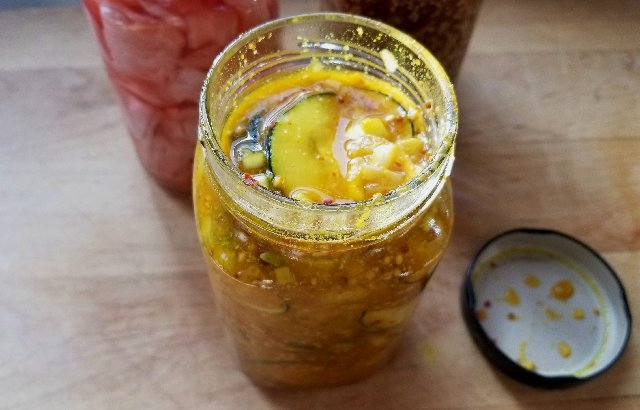 Made the courgette pickle link Gill posted in the OP. With tweaks, natch. It's fantastic IISSM.
My tweaks:
The pickle was never going to be crunchy with hot vinegar poured over the courgettes, even tho they'd been presoaked salted water, so I skipped the presoak and sprinkled salt over the courgette plus a small very thinly sliced onion for an hour.
I made half the vinegar solution, using a large courgette, which I guessed by eye would fill the jar.
The vinegar, sugar, salt ratio is perfect. I had no dry my mustard. I used the end of my coarse homemade mustard - about 2 tsp, a squirt of American mustard, a good teaspoon of turmeric, a teaspoon of crushed chile and a tablespoon of mustard seed.
I'm making more coarse mustard a l'ancienne. And my giant cucumber pickles are done so will be blitzing one to make into sweet pickle relish.
---
Posts: 1253
Joined: Fri Apr 27, 2012 1:40 pm
That looks absolutely glorious, Zerocook!
---
Seconded , what are you planning to use with it ?
---
Posts: 1253
Joined: Fri Apr 27, 2012 1:40 pm
I reckon I could eat that straight from the jar, Amy!!
---
karadekoolaid wrote:I reckon I could eat that straight from the jar, Amy!!
I did. I've made more. Much more.
It could go with just about anything that will take a sweetsour accompaniment. I was thinking of serving with poached salmon as suggested. But that might be a few days away as I have a nice organic chicken to spatchock evoo/garlic/herb grill-roast today which is why I made more as there probably won't be any left of the first batch by the time the salmon shows up.
Actually, the vinegar mixture is very similar to the marinade for South African Pickled Fish, which I love and haven't made for a long time. You fry a load of thinly sliced onions until soft then lightly fry pieces of firm white fish and smother the fish and onions in a sweet sour vinegar spice marinade pretty similar to this, leave overnight and eat the next day with bread and a green salad. Summer fare. Cape Malay version of escabeche. Divine.
---
Posts: 2744
Joined: Fri Apr 27, 2012 2:02 pm
Location: Stoke Newington, London
Inspired by the chat about oily carrot pickle, I bought some in Morrison's. The have a load of pickles by this form in the World Food aisle, about £1.20 each, might try others, this is nice - quite chilli, but not super hot
---
Posts: 2610
Joined: Wed Apr 25, 2012 11:53 am
Location: Cheltenumb
Zero, that looks absolutely wonderful.
Things have improved on the pickling recipe front, since I made pickled chow chow from a newspaper cutting. That created an unpleasant thickened yellow gloop for the vegetables.
---
Posts: 2610
Joined: Wed Apr 25, 2012 11:53 am
Location: Cheltenumb
Sue, I shall look in the world aisles for Tony - who has finally ditched his need for Branstons.
---
Return to Food Chat & Chatterbox
Who is online
Users browsing this forum: Gruney2, icelesley, smitch and 12 guests